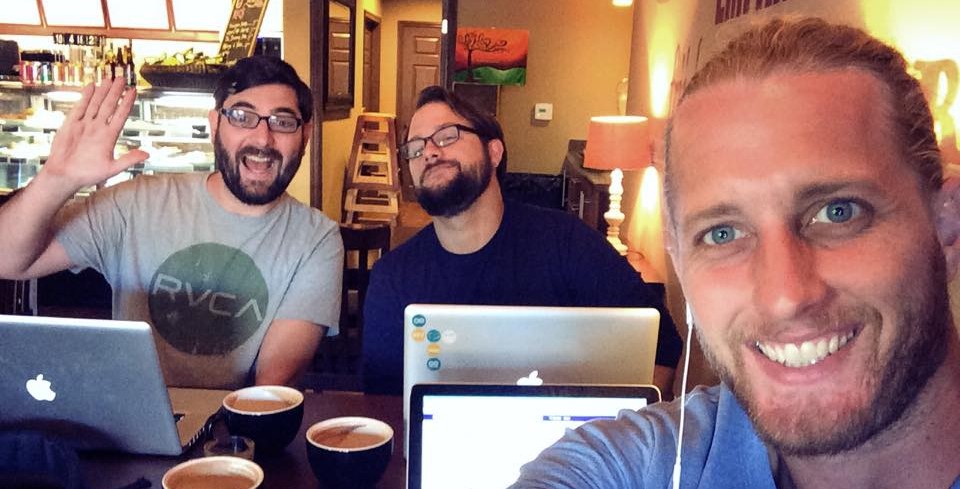 For the past 7 years, I have been running online businesses. They have given me the freedom to travel the world. Sometimes I think it's so simple and try to explain it to a friend or family member. You know the look when someone's eyes glaze over? Yeah, I frequently experience that too. So my intention here is to show you how simple a online business can really be. With a blog and a few tools, you can be in business.
Endless hours go into researching new tools and applications that will make us more money, or save us time or headaches. You can use this list of tools and courses to speed up the discovery process. And it will finally put an end to the question "Bradley, what do you do?".
(NOTE: This is a work in progress, so come back as I will be adding a ton of resources here. Some of the companies may pay me an affiliate commission if you buy their stuff. Thank you in advance for buying my dinner. And these resources would be part of arsenal regardless if they pay me or not.)
---
Getting Started Online
GoDaddy – So you want to be in the ol' internet business, eh? Start with a domain name. I use Godaddy for buying all my domains. You could also use Namecheap. By keeping them all with one company, it's much easier to manage. Meaning, I don't by domains anywhere besides GoDaddy. As the ideas flow, so will your domain name collection. Pick a company and stick with them.
WordPress.org – Once you have a domain, you'll need a blog/website. All of my sites are built on WordPress.org (not WordPress.com). If you don't know the difference, read this. To setup a WordPress site in just minutes, follow this guide.
HostGator – In order to get a blog online, you need to have hosting. In layman terms, hosting is storage space that your website sits on, making it accessible to the world. HostGator is one of the biggest hosting companies, they have great customer support, and it's very inexpensive.
I've worked with them for years and sent them thousands of customers. In fact, you can save 30% instantly off your hosting expenses by using the coupon code "LEARNTOBLOG" at checkout.
---
The Foundation
Gmail – This one put me in a headlock for a while. I wrestled between Google Apps and a normal Gmail account for a while. It's just so much easier having one Gmail account that all your email accounts flow into. That way you can just setup filters for your box. It took a year of convincing by my business partner to do this. I've never loved email as much as I do now.
I have a Google Apps account (it's like a Gmail account for businesses that let's you use your own domain name) for one of my businesses and they don't let you change the primary domain name. So if you change direction or sell the business, you are stuck emails from [email protected] Gmail is free forever and has a whole suite of collaborative tools through Google Drive. You can run most of your business through here.
And here's a little hack. Add on the free Rapportive plugin into your Gmail account. It will pull extra data from the social networks into your contacts.
1Password – Let me save you from MASSIVE overwhelm. This tool is the #1 time saver for me on a daily basis. I used to have this giant spreadsheet of usernames, passwords, and login links. Nonsense! You are an internet entrepreneur and you don't have time to waste sifting through spreadsheets.
Now every time I sign up for a new site, it prompts me to add it to my password vault. Then when I want to login to a specific site, I click the button in my browser, choose the site I want, and it logs me in automatically. You can store credit cards, addresses, and it's totally secure.
This is one of those tools that you will quickly realize how much time your waste in password management. Trust me, you'll thank me later.
Google Analytics – What you cannot measure, you cannot manage. This free tool from Google is a robust web application to track all the data regarding traffic to your website. Signing up for this should be one of the first things you do when you get your site online.
Evernote – I believe it was Tim Ferris who wrote his entire book in Evernote. It's the notepad of the future … uh … that's available today. You can get a free account and load it on all your devices and they all sync up. So you can be out and about and have the next big idea and jot it down right into your phone.
Or take a voice memo. Or build a 'swipe file' like my partner Matt does in this video. Seriously, Evernote is stacked with features and add-ons. I upgraded to the business account for just a few bucks per month. And I've made you a "Blog Post Template" for you to download free.
Skype – We use Skype for all our team daily messaging, group chats, phone calls, video conferences. We also use it for interviewing experts for blog content or podcasts. This cool little add-on plugin called Ecamm will record both screens at once and merge them together in a side-by-side video.
Dropbox – File sharing made easy. You can access your files from all your devices, send them to your team, upload them and get a download link for your customers, and much more. It's free and if you invite your friends, you will get 1GB  storage added to your account. Pretty smart business model.
ManageWP – Juggling multiple WordPress blogs can be a headache. Updating plugins, monitoring comments, checking performance. ManageWP has been my secret weapon for a long time. You can update everything at once, clone sites, heck … you can even manage your clients' sites in there. All the sites stay connected with one login into a easy to use web application.
F.lux – Okay this tool is not helping my bad habits. Working late nights on the computer have to stop. But, when I am kicking it into overdrive, F.lux automatically kicks in on my computer. The blue lights from staring at the computer screen all day can be harmful to our eyes. Also, the blue light sets us off balance with the circadian rhythm of the earth, tricking us to thinking that it is still light outside. This app filters out the blue lights based in your computer screen based on when the sun rises and sets in your area so that your body can adjust appropriately.
Keynote – This is Apple's presentation tool. Doing a lot of webinars, I use this quite often to make all sorts of slide presentations. You can only use it if you are on a Mac device and I am slightly biased, so if you are on Windows … come over to the dark side.
---
Spicing Up Your Blog
ThemeForest – Once you have your blog setup, you got to get a good looking theme without paying an arm and a leg for a designer. This site has the biggest library of premium themes.
You want a premium theme, because they are extremely well made, easy to use, and supported in case something breaks with your site. Plus, it will look like you spent thousands on your design when really it cost you $40. No brainer.
Alternatively, this blog was built on StudioPress using the Remobile Pro Theme. They also have some of the best built themes on the web.
CSSHero – You are going to run into snags with changing your blog design. It's part of the game that WordPress is. In the past, you could either try to hire a designer or try to hack in the code of the website yourself. Well now, you have another option. CSSHero is a plugin for your WordPress blog that allows you to change the look and feel of your site. Any site, any theme.
It dives into the code for you while you just play with their simple interface. I shot a quick demo for you here. You might be thinking, why not just hire someone for the job? Well I like to be able to do some things myself. Tweaking the color of the titles on my blog shouldn't be hard nor time consuming. And now it's not with CSSHero.
WordPress SEO – Naturally questions will arise on how to optimize your blog to appear in the search engines. I'm not going to get in a whole drawn out post on which plugins to use for your blog. But I consider this one of the foundational tools you will need to get your blog ranked, so I will include it here.
This plugin is free and you can add it to your blog. It will help you optimize your blog content inside of your WordPress dashboard. It has an analysis tool that shows you in real time how good (or bad) you have optimized your site.
GravityForms –  As an online entrepreneur, you with out a doubt will find reason to build forms into your WordPress site. Contact forms, applications, surveys, polls, newsletters, etc. There are many hosted solutions like SurveyMonkey which are solid, but expensive if you ask me if you are not using it to the fullest ability. GravityForms is a WordPress plugin that works inside your blog. And it builds beautiful forms. I use this for multiple page client applications. They are super easy to build and you can view all your respondents right from your blog, have them emailed to you, or connect it to your email marketing tool.
Simple URLs – Okay, one more plugin. Just because this is such a important piece of my business. Say you sign up for an affiliate program online. They give you a special tracking link that is usually pretty ugly, obviously an affiliate link, and most importantly hard to remember. But, with Simple URLs, I can disguise that link to anything I want on my domain name. Here's an example…
Ugly link: https://wordpress.org/support/view/plugin-reviews/simple-urls
Pretty link: http://www.bradleywill.com/simpleurls
Isn't that much easier to remember if you quickly need to give someone your affiliate link? I use this plugin to manage and track all affiliate programs I am enrolled in as well as making just quick, memorable links to anything.
Deposit Photos – This site makes my life so much easier. I used to stress about searching Google for images to use for my blog. Then I would worry about the licensing for those images and if that image was stolen in the first place. Taking your business seriously, you are going to want to invest in a good stock photography site (or work with a designer that has access).
Good stock photography gives you so many possibilities. And your blog doesn't look like all the other blogs out there swiping the same lame images from Google. Deposit photos is a monthly subscription. There is also another site out there that is cheaper when you pay on a per photo basis.
---
Marketing and Automation
GetResponse – Email marketing may be the single best way to make money online. You need an email marketing tool that allows you to collect email subscribers that you can mass email. There are many tools out there to choose from. Personally, I do not use GetResponse. Our business calls for a little more as far as features go. But, we recommend this for all of our students over at LearnToBlog.com and my business partner has used them for years.
Once you setup your account, you may want to pick up a tool called OptinMonster. It is a plugin for your blog that connects to GetResponse, so that you can add in forms and popups that collect emails without knowing how to write code. We use this on our sites.
Infusionsoft – We could all use a little more automation in our lives, right? I can honestly say I would not be where I am at today without Infusionsoft. It's an all in one CRM, email marketing tool, shopping cart, affiliate center, and business automator. It's our backbone. Usually new online entrepreneurs invest in separate pieces of software for each of these features. I could not imagine stepping back into time where that was me.
But, you must be ready for something like this. It's pricey for a small business owner if you are not going to use it for it's full capability. If you are ready to setup email sequences to where if some action is taken by your subscriber, then some other action is triggered, I would definitely suggest looking at a demo of Infusionsoft to see if it's right for you.
Looking back, I remember how overwhelmed I was in making the leap in my business. I signed up and paid for it for a year before I really started using it. I didn't know where to start. So, if you have any questions about Infusionsoft, you can always shoot me a quick message and I'll help you the best I can.
Clickbank – Rather than being a "tool" I use, this is a marketplace. In fact, one of the best marketplaces of digital products. You can find information products in every niche that you can sell as an affiliate. Typically, you can earn 50% – 75% per sale you make. And all the payments are handled by Clickbank, so you don't ever have to worry about getting your money. We promote quite a few products on here as an affiliate. If you are a information publisher, this could be a great option for you to launch your course and have other affiliates that find you to promote.
LeadPages – I get it. It's the biggest frustration of every online marketer. You've heard that you have to 'build a list'. But, how does one go about this building of a list without a degree in technology or conversions? Introducing LeadPages. Easily create high converting marketing pages for your business with just a few clicks.
They have tons of templates for things like landing pages, sales pages, thank you pages, webinar pages. Pages on pages! They are all hosted and customizable and there is a plugin so that it connects to your WordPress blog.
We've seen as high as a 70% conversion rate on our webinar registration templates using LeadPages. I've collected over 40,000 subscribers using their templates. It's fair to say this tool paid for itself for life.
GoToWebinar – Webinars are a huge part of my business. We do them often and I've been using this tool to host them all since 2009. GoToWebinar allows you to host webinars with up to 1,000 attendees. And they work. You would think running large online events you are bound to run into technical issues. Rarely do I encounter any issues with this platform. Reliability is key when choosing a webinar platform, which is why I stay with G2W.
Screenflow – Often we get asked how we create our online training programs. The best tool I've found to do simple video recording and editing is Screenflow for Mac. All of our live webinars are recorded using this tool. Then you can quickly make edits, add text and video overlays, and much more.
It's great because it is not bogged down with a bunch of professional video editing features. It's incredibly simple, yet it has all the features you will need to create online videos that are consumed by thousands. I absolutely love this software and it's exceptionally priced.
Easy Video Suite – This software is created by our friend Josh Bartlett and we use it to host and manage our video files online. Once we have our recording of a course or webinar, we upload it here and get an embeddable code to place on our websites. One thing I really like about EVS is the ability to add in bumpers on the front of your videos without editing them. So, say you want to put in a nice 5 second intro motion graphic to your course videos, you can do it all at once here.
Stealth Seminar – Once we have that recording of our webinar created through GoToWebinar, edited through Screenflow and have the registration pages with LeadPages, we can use Stealth Seminar to host recurring online events. Basically people can watch a replay of your webinar, or you can show the replay mixed with live chat. This will help with your automation of your business as it is very difficult and taxing to do live webinars everyday.
---
Other Tools
Clickdesk – Half of our support system is Zendesk and this is the other half. This application embeds on any page of your sites to give you live support chat. The cool thing is that it connects to your Skype, so the chats come in as a normal Skype message, but look to the user as they are speaking to an agent. We use this on all of our order pages so when people have questions before buying, they have someone to talk to. It goes far beyond paying for itself for that alone.
Docusign – Do you do a lot of contracts? Maybe you are a realtor, broker, or consultant? Docusign allows you to send out perfectly legal contracts and accept signatures for them all digitally. Primarily I use this for two things. For sending contracts to clients and collecting W-9's from affiliates. Works like a charm. You can even add on a free app inside your Google Drive account that automatically will send the contracts from Docusign to be saved inside Google Drive.
Skitch – Screen capture images and draw on them with Skitch. This is great for sending examples to your team or colleagues. You can show what you want changed on your site drawing arrows and text on the image. It's also helpful if you want to quickly crop images. It's owned by Evernote so the two work well together. You can also share your images and it will give you a public link to send. Best of all, it's free.
Asana – You are going to love this gem. This is project management done right. Invite your whole team, collaborate on projects, share notes, assign tasks, impose deadlines. It's got it all. Even if you are a one man/woman shop, you can be managing your business in here and by doing so, you are building the right foundation for your team. Best part about it, it's free up to 15 users!
Zendesk – Not really much to say about this one other than you gotta have a good support system in place for your customers. We've been using Zendesk for a few years now and it's been good for us. My support Leader Jeff is the one in the trenches here on a daily basis and he tells me he likes it very much. If it's good for him, it's good for me. One thing I like about Zendesk is it sends us monthly reports on the performance of reports compared to the last month. Average ticket time and such.
---
Coming Soon…
Working on write ups for all of these. I may have forgot a few, but I will add them in shortly.
Odesk, Perfect Audience, Authorize.net, Paypal, LiquidWeb, OptimizePress, EasyWebinar
---
Like this? Checkout more of my favorite things…
Books | Lifestyle | Health | Online Business | Entrepreneur Movies