There is one thing that almost all online marketers struggle with.
To some, it's become this 'mystical thing' that it is reserved for only the elite online marketers. This couldn't be further from the truth.
That one thing is traffic (aka building your audience).
I've been at this for over seven years and have a massive online reach with my mailing list. Speaking from experience, you must understand that getting traffic is unbelievable EASY.
If you are not getting traffic, there is something fundamentally broken with how you are doing business online.
Boy did I struggle with traffic for the longest time. When I started online, I was broke and didn't have an audience. But, the one thing I had that everyone could not match was my passion.
There was this book I read called the Go-Giver, and the message within inspired the heck out of me.
Give first without the expectation of receiving. Receiving is only a natural counteraction to giving. By giving, you have to be ready to receive because people feel obligated to give back to you.
I started raving about this book online, and the author Bob Burg generously gave me a few tickets to attend his upcoming event in Florida for free.
So, I extended these tickets to a few buddies and we came up with this crazy scheme…
Let's do a contest to give away the rest of the tickets so other passionate entrepreneurs could join us on the trip.
We'd drive from Chicago to Florida (because we were broke) to go to the event. Like a rock band, we would stop in the big cities along the way and have meet-ups and promote the message of the Go-Giver.
People caught wind of what we were doing through social media and started sharing with friends. They loved what we were doing so much and even started donating money.
Ford (yes, the car company) donated two vehicles for the whole group to drive. Our housing, gas, food and transportation was all covered from people who believed in what we were doing.
Next, we asked Bob Burg to do a conference call with us that we would promote on social media to build excitement for the tour.
I threw up an opt-in form and collected emails in exchange for getting the dial-in number for the call.
Even Bob Burg shared it on his social media profiles.
We were floored. Something like 300+ people registered to join the call, and that was how I got my first email subscribers.
That's not even the best part…
This movement was huge, with like 100 people at our St. Louis meet-up.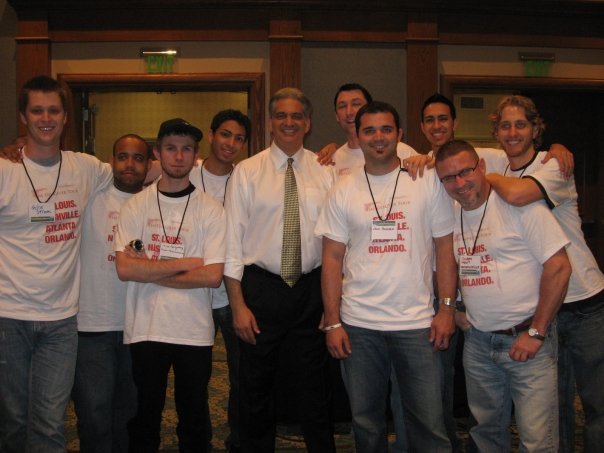 We didn't make a dime from any of this, but we were so excited because we believed we were changing lives.
After it was all over, I remember getting an email from Mr. Burg…
With the Go-Giver being an international bestseller, he decided to write a sequel with his co-author. He asked if I would give him permission to be featured in his next book Go Givers Sell More.
Are you freaking kidding me?!?!?
Absolutely! What an honor.
Many people who have known me online since 2008 remember this.
They still know me as the 'go-giver' guy.
I was not an online marketing expert, and I had no monetization plan.
What I did have was passion. And passion trumps tactics.
When you are a person of massive value, traffic becomes easy. You are confident in who you are and can find people to get in front of.
People will even begin to tell their friends about you. Opportunities come to those of value.
You must the process.
And if you are not getting traffic, look at how much value you are providing people.
Some people have an attitude that they are going to try giving to see if it works for them.
Then you have the people who adopt giving as a lifestyle. For them, giving is never work. They are always of service. Don't get this confused with a doormat that people walk all over.
Rather, someone who is so valuable and likable that others can't resist being around.
My number one traffic strategy is leading with giving.
Again, if you are not getting traffic, ask yourself…
"Am I being a giver or taker?"