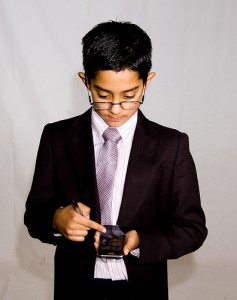 Not long ago, was I that young whippersnapper who thought he knew everything about business.  Always, I felt as if I would have to know everything or else people would not take me seriously or consider me weak.  Some may want to call it cocky.  Whatever you call it, that was me.  And it didn't get me far. Actually, it got far enough to make me a lot of money and then caused me to go broke.
To all you know it all's out there, stop reading and click here.  For those who feel that they everything to learn, I want to shatter the objection of having no credibility for every young entrepreneur, right now.  Time and time again, people ask me how to become an expert in something, without any business knowledge or experience, and gain the trust from their new audience.  How does one get past this road block?  The last thing we want to do is sound like an idiot talking about a topic that we don't have a deep understanding about.
I have learned that successful people view confidence as a great trait for young entrepreneurs to have,  but even more so displaying humility.  As long as you are aware that you don't know everything,you give yourself room to grow.  I am reminded by a saying by Socrates, " I am the wisest man alive, for I know one thing, and that is that I know nothing." BAMMMMMM!!!  The first time I heard this quote, it knocked my socks off.
Before I give you the instant solution to having no credibility, I want to tell you about a word that has tremendously impacted my life.  It is a word that derives from the Latin word "humus", which means dark, rich, nutritious, organic soil.  Soil that is fertile and poised for growth.
This word means everything to me.  It was taught to me through the moving book Aspire! written by my new friend Kevin Hall (who I met first via Twitter through my friend Gilbert Melott) To understand what you know is one thing, but to understand what you do not know will take you to new heights in your life.
It is difficult being a young business owner, yet is the most rewarding thing.  You already know that you must be ready to go through so growing pains.  So, how do we show humility yet still position ourselves as experts and build instant credibility?  It is so simple.  Just follow these three steps.
Identify Leaders

Make a list of several leaders who are tearing things up in your niche.  Actually, they don't even have to be in your niche.  Just find an expert where you can spin their message toward your audience.  Learn about them and what kind of value they provide.
Contact Them

Reach out to a few of these leaders.  Send them a quick email or give them a phone call.  Remember, get to the point because they are busy.  Here is what you will say:
Hey Susan,

My name is Bradley Will.  First and foremost, I would like to tell you that I am absolutely inspired by your work.  My depth of knowledge about alternative health has grown tremendously just from reading your blog and watching your videos.  Natural health has changed my life ever since battling a disease back in 2007 where I was able to heal myself completely.

The reason for my email is that I write a blog for young people on embracing natural health.  I do not like to preach to them rather inspire them through stories that make them want to take action in their life.  I would be honored to interview you and feature your stories on my blog in a way that it speaks to the younger generation.  It would be beneficial to you because it will expose you to my audience of young alternative health seekers and I will link back to your site.

We can do it by phone or video, which ever you prefer.  I would be free all next week to set something up.  Regardless if you decide to do it or not, I would like to thank you for who you are and I will continue to follow your work.

Bradley Will

Cheers to your outstanding success,
An email like this (not the same one just copy and pasted) will complement them, describe who you are and the reason for contacting them, and what is in it for them.  Just get to the point, not dancing around the subject.  If they say no because they are too busy, who cares.  Either be persistent or say "N-E-X-T" and contact the next leader on your list.
Conduct Interview

You can conduct and interview over Skype, Ustream or by phone.  If it is by phone, record it and pay someone to transcribe it.  You can now feature this on your blog and now spread the word!  The most important thing is to ask intelligent questions that allow you to appear as an expert.  Now, I am not an expert interviewer, but i do have some really cool people that you can learn from. Here are 5  young entrepreneurs (or 6 if you count the brothers) who are showing humility and knocking the ball out of the park doing so.
5 Young Entrepreneurs Who Can Teach You Overnight Credibility
Jun Loayza (Viralogy.com)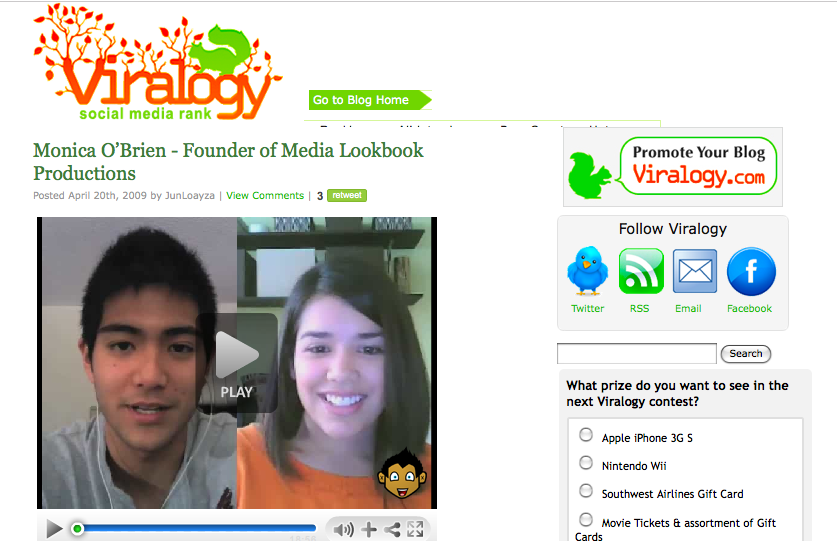 Dan Scwabel (PersonalBrandingBlog.com)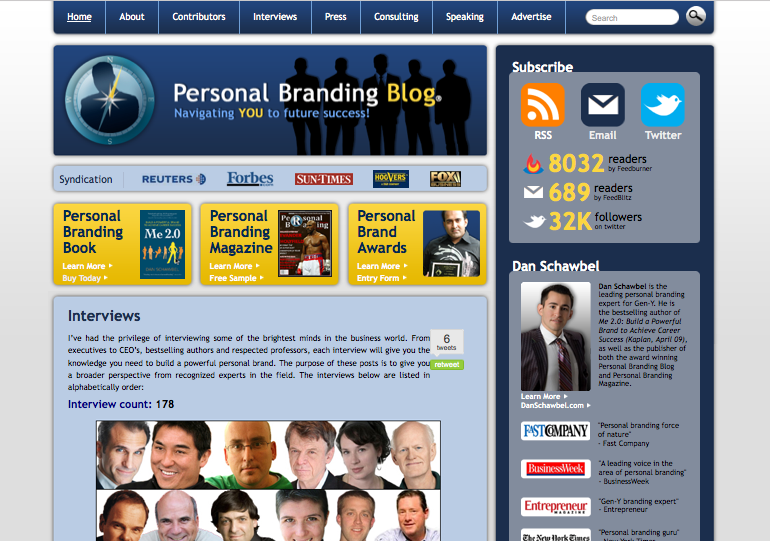 Gabe Strom (SocialMediaTV)
Michael Dunlop (RetireAt21.com)

Matthew & Adam Torren (YoungEntrepreneur.com)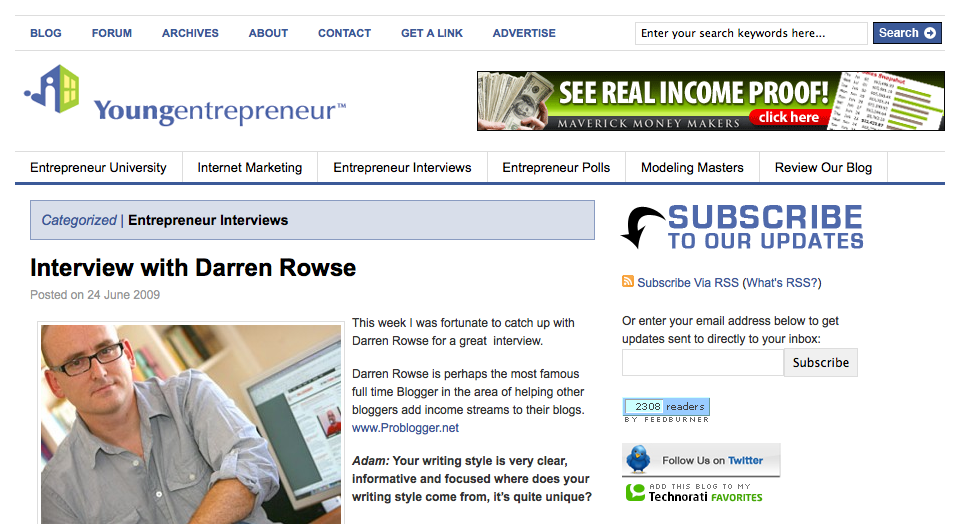 {photo by: eemouk}