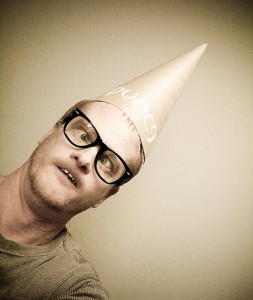 While feeling like I am moving at the speed of light, I wanted to slow down for a second and take some time today to reflect.  There are days these past few weeks where I have been working so hard at points that I feel delusional.  Maybe that is from the 18-19 hour work days (I will tell you why at the end of this post).  I have grown tremendously as a person and in business, yet sometimes feel like the guy to the right with all the mistakes I have made.  I have come to understand that my failures are part of the process so I wanted to share with you what I found.
So far, this year I have learned…
Eating a bunch of bananas in one day is too many bananas.
Spend a few extra minutes developing a well thought out plan.
Don't change anyone.  Just change yourself.  The right people will follow.
It's cool to be smart.
If you are going to come up with ideas, fully think them through and come up with a plan to execute before rattling them off to business partners.  You will get everyone sidetracked.
I still love working with young entrepreneurs.
Don't publicly commit yourself to reading 52 books in 52 weeks.
About the respect I have for you for reading this.
To Get clear on what you want at this very moment.  It most likely will change, but get clear NOW.
I want to punch Sanyo in the mouth for their horrendous customer service.
Blogging is awesome…everyone should do it as long as it is consistent.
Life is funner, yes funner, when you are doing what you love.
Planting a garden actually is hard work.  Outsource the weeding.
Although I am quite creative, I am horrendously slow at putting mediocre websites together and that should be outsourced too.
Work outside any chance you get.
If you want comfortable, work 8 hour days.  If you want to be ultra-successful, there will be many days you will work wake to faint.  And you will love it.
At times of desperation, keep your cool and always have faith.
Try to emotionally have lower highs and higher lows.
The switchover from PC to Mac is really not as scary as I thought and actually one of the most refreshing moves I ever made.
Find ways to serve the people in your network.  This can be as simple as a complement.
Practice absolute punctuality.  You will look like a clown when you are late or miss appointments.
How not to care about money.
I would always choose working in a group verses working by myself.
That I am good at pretending to be busy, but it is actually hard work being busy.
By setting deadlines, announcing them and having multiple accountability partners will catapult your results.
My feet aren't that big, and toe-thong sandals are quite comfortable.
When you don't have Twitter followers, it means everything.  When you have them, smart people understand that it's about quality not quantity.
Making to-do lists at night is crucial.
15 minutes of YOU TIME every morning can change your life.
That asking yourself "What can I be best in the world at?" can lead to some serious breakthroughs.  Just as equally looking at what you can never be best at and eliminating.
If you want to build a business on a budget, get good at leveraging others as well as being leveraged.
You can build a business entirely through social media.
I would not be where I am at without everyone around me.  No one is self made.
Give someone the benefit of the doubt.
That I have witnessed an Icon in my lifetime.  There is a good chance that at every second for the rest of eternity, someone will be listening to his music.
I deserve a vacation.
You have to be out of the box to be successful and people will love when you embrace your little quirks.
It wasn't embarrassing in school when I didn't do my homework, but it is when you don't do it for dog training class.
Discipline comes easy when you know where you are going.
I really enjoy public speaking.
You make think you know your closest friends, but you probably have no idea about what they have gone through.
Twitter can be a gift if you use it as one and a curse that can suck you dry.
I love wearing basketball shorts everyday.
That Borrowed Earth Cafe is my favorite restaurant on earth…so far.
Social media can bring together great people quickly, but spend extra time developing those live relationships.
I can stomach almost anything, but I've met my match with too much arugula.  Everything in moderation.
How to do the moonwalk.
We all grow at our own pace.  Everyone deserves a second chance. I am grateful I got one.
I liked Facebook so much better before they went through a identity crisis.  Make sure things work correctly before making drastic changes.
It is quite okay to fail often.  It can usually takes me 2-3 times to get it right and I am cool with that.
That I really could be incredibly happy making $3,000 a month living on a beach climbing coconut trees and spearing fish in the ocean, but I wont change the world being broke sitting on the beach.
The true definition of humility.
You can be an asshole an become a millionaire, but to get to stratospheric success, you must genuinely love and care for people.
I really, really, really, really, really love my Macbook.
I love you for being you.  There is nothing better than your authentic self.
That people actually care what I have to say.
That I HATE the misleading telemarketers at this number (402.982.0785) who call say "This call is in regards to your current credit card accounts…." then go on saying don't be alarmed and try to sell you something.  Dude, what kind of shit is that?
That I feel like sometimes no one understands me and you can find people effortlessly who do on Twitter.
How young entrepreneurs can become an expert at something or at least appear to be one.
I am fortunate for everything I have and am responsible for everything that is good and bad in my life.
And finally…. launching a quality product is an ungodly amount of work that you don't expect until you go through it.  It's worth every second.

So, if you want to know what I have been secretly working on…my business partner and I have poured hours and hours into developing a new business Social Media Altitude.  You can check it out here: http://SocialMediaAltitude.com and enter your email to get our brand new FREE 7 video training series.
What is the #1 thing you learned this year?  Leave it below.
{photo by: sumrow}