The last poll conducted on my blog, asked young entrepreneurs "What is the biggest challenge in your business?"  After wrapping up and reviewing the results, I found some interesting data.
23% of readers saw their biggest challenge in business as finding like minded people to mastermind.  Similarly, 22% find themselves having trouble staying motivated. I will come back to this.
An almost equal percentage of people feel their biggest challenges are finding a mentor, battling negative influences, time management and finding their passion.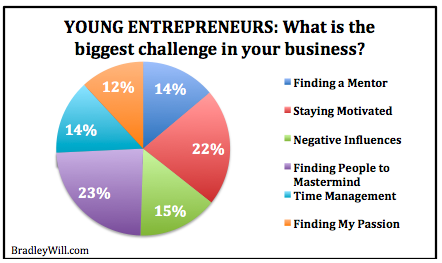 Survey respondents: 118
Now, I included masterminding in here because it is a big part of my business.  I am at an accelerated growth rate because of the people I surround myself with.  In relation, I stay motivated because the passion for what I do is strong, but more also from group collaboration.  I find it so inspiring to partner up with like minded people to help each other profit, grow and complement the others weaknesses.
I will go out on the line from the results of this survey and say many young entrepreneurs need help with learning how to collaborate in groups and who to seek out in doing so.  Do you think young entrepreneurs struggle with group collaboration?
My friend "The Success Man" Russell Yermal reviewed my last post and just told me about a cool offer he made.  He is giving away a free 30-minute coaching consultation to the first 5 people wanting to learn Social Media strategies who comment on his blog post.
Hurry up and get over there…I don't promote other people often this way, but Russell is a freakin' genius when it comes to this stuff!!!