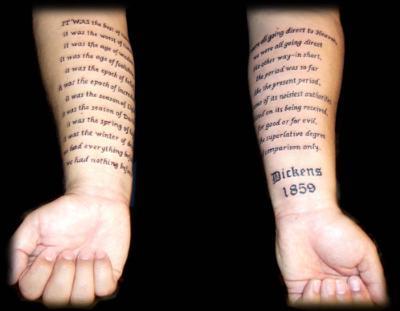 I have one tattoo.  Who knows, I may plan to get more.  Maybe I will make my body a shrine to all of the great entrepreneur quotes that inspired me along my journey.
The words of many great leaders, constantly ring in my head.  This is the collection of 12 powerful yet simple quotes that shine light on my path.  There are millions of great quotes, but I believe you will find these quite special.
Do I think every entrepreneur should get these quotes inked on their body?  Obviously it's your choice, but it is better than some of the weird ass tattoos I have seen people stamp on themselves.
This is permanent.  Life is not.  Even if you do not decide to carry these quotes on your body, I recommend to reference them continually to guide you on your journey to success.
12 Entrepreneur Quotes You Should Consider Getting Tattooed on Your Arms:
"Be the change you wish to see in the world." -Mahatma Gandhi

"Whether you think you can or you can't, you're right." -Henry Ford

"Watch, listen, and learn. You can't know it all yourself. Anyone who thinks they do is destined for mediocrity." -Donald Trump

"The measure of a man's real character is what he would do if he knew he would never be found out." -Thomas Babington Macaulay

"Anything the mind can conceive and believe, it can achieve." -Napoleon Hill

"Always treat your employees exactly as you want them to treat your best customers." -Stephen R. Covey

"Insanity: doing the same thing over and over again and expecting different results." -Albert Einstein

"Make each day your masterpiece." -John Wooden

"Choose a job you like and you will never have to work another day in your life." -Confucius

"I've failed over and over and over again in my life and that is why I succeed." – Michael Jordan

"Never leave that till tomorrow which you can do today." -Benjamin Franklin

"Formal education will make you a living; self education will make you a fortune." -Jim Rohn
Several of these quote bearers are also great authors of my favorite books. I've put together a comprehensive reading list here of over 5o of my favorite books that have helped me in my entrepreneurial journey.
So, what entrepreneur quotes did I miss? I'd love to hear from you…
These are some of the best entrepreneur quotes I've found. Maybe you won't tattoo them on your arms, but ones to post up on your wall for sure. There are millions out there to choose from so it's likely I missed some good ones. So, what are YOUR top entrepreneur quotes to keep you inspired? Suggest them in the comments below and we may include your suggestion in our next update of this post!
Like this article? Checkout a few of my favorite things…
Books | Lifestyle | Health | Online Business Resources | Entrepreneur Movies