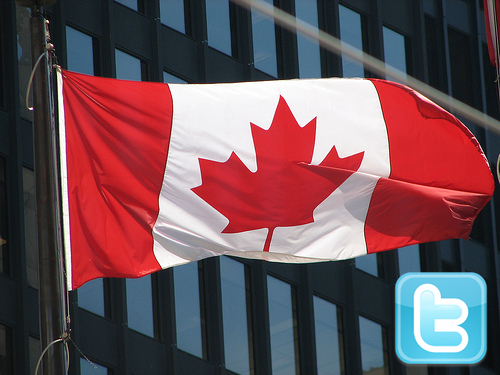 For those of you who haven't had the chance to visit Canada just yet…sure, we might have some brutally cold winters, and throw the occasional  (or not-so-occasional) "Eh" into our sentences, but one thing you may not have come to realize about Canada is that we are a land of emerging young entrepreneurs and leaders who are taking social media by storm and leaving our mark in the world!
I have been privileged to meet many brilliant young entrepreneurs and emerging leaders through social media; including many of my fellow Canucks! Through networking on Twitter, I've been able to get to know many dynamic, driven entrepreneurs and leaders in an array of industries, stages of business development, and of all different ages…and now I'm thrilled to have the chance to share these young movers and shakers with you and why they are great people to learn from and follow on their path to success.
If you think I've left anyone out of this list (or if any mistakes have been made), please leave a comment below and we will make necessary adjustments.
So, without further delay, here we go (in no particular order):
1. Rebecca Bollwitt | @Miss604
Why you should follow: As a WordPress theme developer, guest writer for E! Online, and founded of Sixty4Media, Rebecca's got the scoop on what's hot an emerging in the world of social media and beyond.
2. Rae Hoffman | @sugarrae
Why you should follow: Rae is the founder of Outspoken Media where her group consults on internet marketing, viral marketing, affiliate marketing and SEO strategy.
3. Dan Barton | @OasisProperties
Why you should follow: Dan is a young entrepreneur, author, speaker and founder of Oasis Properties who provides insight into investing and real estate for new and experienced investors alike.
4. Erin Blaskie | @ErinBlaskie
Why you should follow: Having started her business at the young age of 21, Erin now has a successful practice helping virtual assistants and entrepreneurs grow their through her sharp sense for internet marketing.
5. Jay Author | @JayAuthor
Why you should follow: Through his Twitter profile and official blog, Jay fields your burning questions about financial management and internet marketing in a straight-shooting and clear format.
6. Alex Kaplo | @AlexKaplo
Why you should follow: Alex is a young internet marketer who has created a digital product and blog about internet marketing and creating income from home.
7. Cory Schop | @coryschop
Why you should follow: Not only is the the founder of Twitter application Tweepler, Cory is a proficient logo designer with over 3000 logos under his belt.
8. Drew Williams | @drewwilliams27
Why you should follow: As an editor at Tweeple Magazine, CEO of Williams Design Studios, and Marketing Director for Vital Insight Group; Drew is a driven young entrepreneur and talented web designer.
9. Wynter Jones | @wynterjones
Why you should follow: A prodigy website flipper, web designer, and avid blogger; Wynter provide tons of tips and tricks on site monetizeation and blogging from his frequent Tweet updates.
10. Eric Pilon-Bignell | @PilonBignell
Why you should follow: Eric is a young entrepreneur who innovated the energy drink industry by creating Energy Drink Gum.
11. Eugene Gregorio | @mployr
Why you should follow: Eugenio is the founfer of Mployr.com, a search engine for new media, IT, Internet, and engineering careers.
12. Rick Yager | @rickmacmerc
Why you should follow: Rick  is the co-founder of Yowza, a site providing coupons to iPhones and iPod Touch phones, and host of his own online TV show where he mixes humor with his entrepreneurial insight.
13. Andrew Hansen | @andrewhansen1
Why you should follow: As a rising internet marketer and the creator of Firepow! internet marketing course, Andrew Hansen has the experience and expertise you need to develop your internet marketing skills.
14. Jeremy Wright | @jeremywright
Why you should follow: Founder of the growing online media empire b5media, Jeremy's insight and growth and experience as an entrepreneur and startup CEO is absolutely worth following.
15. Ben Barry | @benbarryagency
Why you should follow: Ben is the founder of the Ben Barry Agency and winner of CIBC Student Entrepreneur Of The Year.  He has appeared on Oprah in respect to his devotion to change perceptions and stereotypes of beauty in the fashion industry.
16. Adam Toren | @thebizguy
Why you should follow: Co-founder of the massively popular community for emerging entrepreneurs; http://www.youngentrepreneur.com.
17. Garin Kilpatrick | @garinkilpatrick
Why you should follow: Social media manager for Eduify.com and an avid blogger keeping the world plugged into his entrepreneurial journey through Twitter.
18. Jason Tryfon | @jasontryfon
Why you should follow: An undisputed leader in social media, Jason has built a network of dynamic websites covering all that is social media phenomenon, all the while tweeting his growth and an entrepreneur.
19. Stacey Prieur | @sprieur
Why you should follow: A fun and light-hearted young entrepreneur and social media enthusiast, Stacey develops her own engaging (and entertaining) online show.
20. Craig Ballantyne | @CraigBallantyne
Why you should follow: A personal trainer with an innovative and dynamic approach to fitness, Craig provides fitness inspiration and insight through his largely popular Twitter profile.
21. Matt Mickiewicz | @sitepointmatt
Why you should follow: As the founder of the innovative 99Designs.com and SitePoint.com, Matt is a trustworthy resource and leader among graphic designers and web professionals.
22. Ilya Grigorik | @igrigorik
Why you should follow: With experience in blogging, programming, and as the Founder of PostRank; Ilya has an insider's view on what's new and hot in the blogosphere.
23. Elliot Hurst | @supernovElliott
Why you should follow: Founder of the web portal Supernova.com,  Elliot has a passion to discover, develop, and empower upcoming indie bands and talent.
24. Adam Haroun | @AdamHaroun
Why you should follow: Adam is passionate about online marketing, graphic design, and financial education who provides knowledge and insight to empower young entrepreneurs.
---

Follow the whole list quickly and easily with
Ninjafollow.com.
Just copy the list below and paste in into the proper field on NinjaFollow.
---
Miss604, sugarrae, oasisproperties, erinblaskie, JayAuthor, AlexKaplo, CorySchop, DrewWilliams27, wynterjones, pilonbignell, mployr, rickmacmerc, andrewhansen1, jeremywright, benbarryagency, thebizguy, garinkilpatrick, jasontryfon, craigballantyne, sitepointmatt, igrigorik, supernovElliott, AdamHaroun
---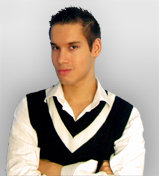 This post was written by special guest writer Adam Haroun.
Adam Haroun is a student entrepreneur, graphic designer and internet marketer. Find him at http://www.fastandfunprofits.com. Also follow Adam on Twitter: @AdamHaroun.